5 Posts - Page: 1
Steering column indicator switches
Post #2 | Thursday, 12-Dec 2013 @ 8:21pm
Edited by
beetwenty
Thursday, 12-Dec 2013 @ 8:52pm
It should not be bent like that.
Here are some pics from an ancient for sale ad over on ratsun.net for reference.
Listed as a 1200 part, but part numbers say 25540-H0100.  (the xxxxx-
H01
xx part of the number means it is for a 1000)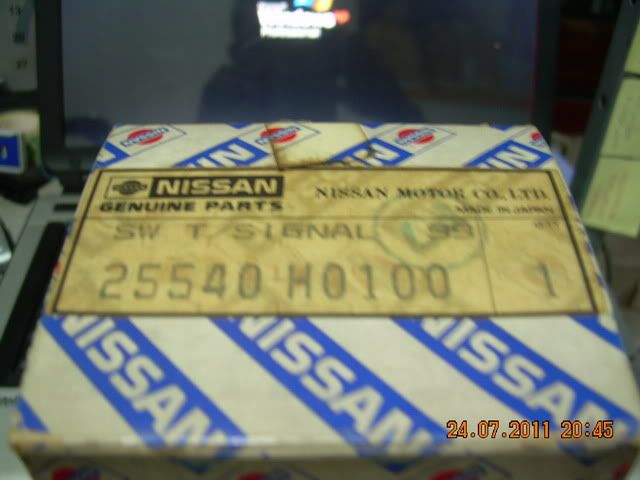 1967 Datsun B10 2 Door.

Melbourne, Australia
Joined: 23-Aug 2012
Post #3 | Friday, 13-Dec 2013 @ 8:19am
Ash do you know the part number for the copper conector bar/flap. Thing that makes the connection to activate the horn? (first photo bacwards looking 'S')
 
Would this be the same in a 1200?
 
And.... Does anyone have one?
Post #4 | Friday, 13-Dec 2013 @ 10:22am
All fixed thanks Ash! The tab was earthing out causing my horn relay to stay active, thus draining my battery over night.
Post #5 | Friday, 13-Dec 2013 @ 5:32pm
Don't know the part number sorry, and my parts book is packed up as im moving house.
even my computer is being boxed up in about 30 seconds. 
I recently put up an english parts manual in the downloads section.

Datsun 1000 Part Numbers (523 pages)

B10_Part_Numbers.pdf (23.4 Mb)

And yes I will have one once i unpack everything again at the new place.
So if you fail to find one contact me in a week or so and i'll help you out.
 
Ash.


1967 Datsun B10 2 Door.
5 Posts - Page: 1